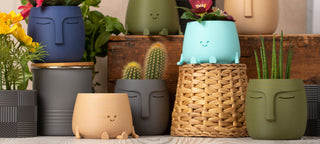 Meet the whole family.
Our latest range of planters are now available!
Irish Owned Company
We take pride in being an Irish-based studio. All of our work is designed and printed in the beautiful country of Ireland. Your order is coming directly from our group of skilled artisans in Wexford, Ireland directly to your door.
Sustainable and Eco Friendly
We use eco-responsible PLA bioplastic to 3D print these awesome sculpture planters. Polylactide is an environmentally friendly renewable thermoplastic and a polymer. It is made from the starch of plants such as corn, sugar cane and sugar beet, making it completely sustainable.
3D Printed
We use innovative 3D printing technology to create these one-of-a-kind head planters. All of our cactus pots are printed with heavy-duty PLA to last you for years to come. The attention to detail and quality of our work at RB3D Designs is truly unmatched.
FREE Shipping
FREE SHIPPING is available on all orders worldwide!
With 30 day free returns no questions asked (although we will be shocked)